Baked Ham with Honey-Apricot Glaze

1 10- to14-pound spiral-sliced, fully-cooked smoked ham
1 cup honey
1 6-oz. can frozen orange juice concentrate, thawed
1/3 cup soy sauce
1/3 cup apricot jam
1/2 tsp. ground nutmeg
1/4 tsp. ground cloves

Serves 14
Preparation Time: 10 minutes
Cooking Time: 90 Minutes

Preheat oven to 325° F. Place ham on rack in shallow roasting pan. Mix together remaining ingredients in medium bowl; set aside. Bake ham for 30 minutes; pour glaze over ham and continue to bake until ham is heated through, about 1 to 1 1/2 hours total.
Deviled Eggs with Bacon
NOTES: If making up to 1 day ahead, arrange filled eggs in a single layer; cover and chill. Wrap bacon and parsley separately and chill.
MAKES: 12 servings
6 large eggs
2 slices bacon (11/2 oz. total), coarsely chopped
1/4 cup sour cream
1 tablespoon Dijon mustard
Hot sauce
Salt
Chopped parsley
1. Place eggs in a 3- to 4-quart pan and add enough cold water to cover by 1 inch. Bring to a simmer over high heat, then reduce heat so bubbles break surface only occasionally. Cook 15 minutes. Drain eggs, cover with cold water, and let stand until cool, about 10 minutes.
2. Meanwhile, in an 8- to 10-inch frying pan over medium-high heat, stir bacon until crisp and brown, about 3 minutes. With a slotted spoon, transfer bacon to towels to drain. Crumble when cool. Discard all but 1 tablespoon bacon fat from pan.
3. Shell eggs and cut in half lengthwise. Remove yolks and put in a small bowl. Mash yolks with a fork, blending in the reserved 1 tablespoon bacon fat, the sour cream, and the mustard. Add hot sauce and salt to taste.
4. Mound yolk mixture equally in egg white cavities. Sprinkle with bacon and parsley just before serving.
Strawberry Spinach Salad
2 tablespoons sesame seeds
1 tablespoon poppy seeds
½ cup white sugar
½ cup olive oil
¼ cup white wine vinegar
¼ teaspoon paprika
¼ teaspoon Worcestershire sauce
1 tablespoon minced onion
1 (10 ounce) bag fresh spinach - chopped, washed and dried
1 quart strawberries, sliced
¼ cup toasted slivered almonds, optional

Directions:
Whisk together the sesame seeds, poppy seeds, sugar, olive oil, vinegar, paprika, Worcestershire sauce, and onion. Refrigerate until chilled.
In a large bowl, combine the spinach, strawberries and almonds. Pour dressing over salad; toss and refrigerate 10-15 minutes before serving.
Serves 4
Source: Allrecipes.com
Artichokes with Lemon-Garlic Butter



Recipes courtesy Gourmet Magazine

2 tablespoons olive oil
1 bag frozen baby artichokes
2 garlic cloves, minced
4 tablespoons fresh lemon juice
4 tablespoons butter

Heat oil in heavy medium saucepan over medium heat, saute artichokes until browned; add garlic, cook 1 minute. Add lemon juice and butter; whisk until butter melts. Season with salt and pepper. Serve artichokes warm with seasoned butter.

Yield: 4 servings
Prep Time: 5 minutes
Cook Time: 5 minutes

Roasted Sweet Potatoes (Wedges)



Recipe Courtesy of Cheryl Smith

2 small or one large sweet potatoes
Olive oil
Fresh thyme
Salt and pepper

Cut potatoes into wedges. Add wedges to a bowl and coat with olive oil. Toss in thyme and salt and pepper. Place potato wedges in a pan and roast at 425 degrees for 35 minutes.

Prep Time: 10 minutes
Cook Time: 35 minutes
Difficulty: Easy

Spring Linguine



Recipe Courtesy of Michelle Urvater

8 ounces linguine, fine
2 quarts salted water
1/4 cup finely chopped bacon or pancetta or
2 tablespoons olive oil
4 scallions, thinly sliced
8 to 12 ounces fresh asparagus, peeled and cut diagonally into 1/2 inch slices
1 tablespoonful each of lemon juice and unsalted butter
Salt and freshly ground black pepper
1/2 cup crumbled fresh goat's or farmer's cheese
2 tablespoons sliced pitted cured black olives

Bring salted water to a boil. While the water is coming to a boil prepare the ingredients you will need for your sauce. Add the linguine to the salted water and cook for 8 to 10 minutes or until cooked but still firm to the bite.

Meanwhile heat the bacon in a skillet. When the fat has rendered and the bacon bits are crisp, add the scallions and asparagus and cook over moderate heat, stirring continuously, for about 2 minutes or until the asparagus are crisp tender.

Drain the pasta (reserving a tablespoonful of cooking water) and portion it into pasta bowls.

Add the water, lemon juice and butter to the asparagus skillet and swirl the ingredients around until the liquid and butter form a little emulsion. Season to taste with salt and pepper and spoon over the pasta. Garnish with cheese and olives.

Yield: 2 servings
Prep Time: 20 minutes
Cook Time: 45 minutes
Difficulty: Easy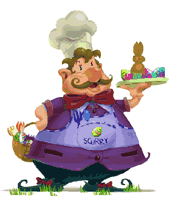 Fresh Coconut Cake with a Lemon Cream Cheese Filling and Boiled Icing



Recipe courtesy of Emeril Lagasse, 2000

2 cups sugar
1 cup butter, room temperature
1/2 cup vegetable oil
5 eggs, separated
2 cups flour, sifted
1 teaspoon baking soda
1 cup buttermilk
3 cups fresh grated coconut
4 ounces cream cheese, at room temperature
3/4 pounds confectioners sugar
1 lemon, zested, about 1 tablespoon
2 tablespoons fresh lemon juice
1 recipe Boiled Icing, recipe follows
Fresh mint sprigs
Shaker confectioners sugar
Strips lemon zest

Preheat the oven to 350 degrees F. Lightly grease and flour 3 (8-inch) cake pans. Using an electric mixer, cream the sugar with 1/2 cup of the butter. With the mixer running, add the oil and incorporate thoroughly. Add the egg yolks, 1 at a time, beating well after each yolk. Sift the flour and baking soda together. Alternately add the flour mixture and buttermilk to the egg mixture. Mix thoroughly. Fold in 2 cups of the coconut. Using an electric mixer, beat the egg whites until stiff. Fold the egg whites into the cake batter. Pour the batter into the prepared pans. Bake the cakes for about 25 to 30 minutes or until the center of each cake is set. Using an electric mixer, cream the remaining butter with the cream cheese. Add the powdered sugar, lemon zest, lemon juice and 2 tablespoons of the milk. Mix well. Spread a thin layer of the filling on top of each cake. Place the layers of cake on top of each other. Ice the sides and top of the cake with the boiled icing. Sprinkle the remaining cup of coconut over the top and sides of the cake. Place a slice of the cake on a plate and garnish with powdered sugar, fresh mint and lemon zest

BOILED ICING

2 cups sugar
1 cup water
3 egg whites, at room temperature
Pinch salt
1/8 teaspoon cream of tartar
1 teaspoon pure vanilla extract

In a saucepan, over medium heat, combine the sugar and water. Bring to a boil and cook for 3 minutes. Bring the sugar to 240 degrees F. **If crystals appear on the side of the pan, take a damp pastry brush and brush the sides down. Meanwhile, combine the whites, salt and cream of tartar in the bowl of an electric mixer, fitted with wire whip. Beat on low speed until soft peaks form. Increase the speed to medium-high and beat until stiff peaks form. In a steady stream, add the sugar syrup to the whites and continue to whipping until the icing is spreadable. Whip in the vanilla. Yield: about 2 1/2 cups

Yield: 1 (8-inch) cake
Prep Time: 30 minutes
Cook Time: 45 minutes



Old Fashioned Lemonade



Recipe Courtesy of Curtis Aikens

1 cup sugar
1 cup water
Peel of 1 lemon, cut into strips
Juice of 6 lemons
Fresh mint sprigs and lemon slices, for garnish

In a small saucepan bring sugar and water to a boil, add peel and simmer for 5 minutes. Remove from heat, bring to room temperature and strain out peel. To a 2 quart pitcher add lemon juice and 1/2 cup of the syrup and 5 cups water stir, taste, adjust ratio of water and syrup. Serve over ice garnished with a mint sprig.

Yield: approximately 2 quarts
Prep Time: 25 minutes

Cakes and Ale
Limoncello



Recipe courtesy Rocco DiSpirito

2 pounds very fresh lemons
1 quart grain alcohol
6 cups water
2 1/2 cups sugar

Zest lemons, making sure not to include any pith. Put zest in a jar with alcohol and let stand in the dark for 3 days, making sure to shake the jar at least twice a day.

When the lemons are pale, all the oil has been extracted. Strain the liquid and discard the zest. In a saucepan over low heat, heat water and sugar until sugar dissolves and syrup is clear. Let cool to room temperature and mix with infused alcohol. Strain liquid through a coffee filter.

Yield: 2 quarts
Prep Time: 10 minutes
Cook Time: 5 minutes
Difficulty: Easy


Ostara Nests

Ingredients

Cooking chocolate
Shredded Wheat
Mini eggs
Rice paper circles

Method

Melt the chocolate in a double boiler, or in a bowl over steam. Get an adult to help you with this.

Remove from the heat.

Crush some shredded wheat and add it to the chocolate. Keep adding until the shredded wheat is coated, but there isnt oodles of chocolate oozing about.

Put a spoonful of the mixture onto a rice paper circle and then make it into a nest shape by making a big depression in the middle.

When the nests have set, put a couple of mini-eggs in and you are done!

Store in an airtight tin and enjoy!