Braised Chicken With Lilac
NGREDIENTS

1 hen, lilac, gastrodia elata, ginseng, Chinese forest frogs and other valuable traditional Chinese medicines, 16 in all, Shaoxing wine, salt, chives, ginger, pepper, sesame oil, gourmet powder

RECIPE


After killing the hen, drain off the blood, scald it in boiling water and depilate it, remove its intestines and clean it.

Wrap the lilac, gastrodia elata, ginseng, Chinese forest frogs and so on in gauze, then braise them in chicken soup for a while, put in gourmet powder and salt after taking them out and cooling down.

Braise the chicken in another pot, stew it when water boils, after 10-odd minutes, take it out and submerse it in the above medicine-braised soup for dozens of minutes, then take it out, slice it and place them in a dish. Add the seasoning of chive oil, gourmet powder, satay sauce.
Cornish Hens in Honey
Ingredients:
1 tablespoon vegetable oil
1 cup chopped onions
1/4 cup chopped parsley
1 cup raisins
1 1/2 teaspoons pepper
2 teaspoons ground cinnamon
cloves, saffron and salt, to taste
4 Rock Cornish game hens, 1 to 1-1/4 lbs. each
water, as needed
1 cup honey
parsley and woodruff, *for garnish, optional
Instructions:
Heat oil in medium skillet over medium heat. Add onion and parsley.
Cook and stir 2 to 3 minutes or until onion is softened.
Sir in raisins and spices.
Season game hens inside and out with onion mixture.
Place game hens on rack in roasting pan.
Roast in preheated 375 degree F oven 25 minutes.
Remove pan from oven.
Pour enough water in bottom of pan to measure 1/2 inch.
Spread honey over game hens to coat.
Return to oven; reduce heat to 350 degrees F.
Roast 15 minutes or until hens are tender and golden brown.
Remove hens to heated serving platter and keep warm.
Adjust thickness of pan juices and correct seasoning as desired.
Generously spoon over game hens.
Garnish with parsley and woodruff, if desired.

*Note: Also known as sweet woodruff, this herb is a ground cover native to Europe. Woodruff is used as a flavoring in May Wine, as well as used to season sausages, candies and cooked dishes in Germany and Austria. The dried herb is available through mail order and in gourmet food stores.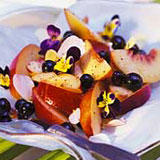 Rose Petal Fruit Salad

Prep & Cook Time:
About 10 minutes

Makes:
6 servings

Notes:
Rose flower water is available in liquor stores, Middle Eastern food markets and fancy supermarkets.

Ingredients:
1-1/2 cups blueberries, rinsed
3-1/2 cups sliced nectarines
1/4 cup rose petals, rinsed and drained
1/4 cup Johnny-jump-ups (stems pinched off), rinsed and drained
2 tablespoons raspberry vinegar
About 1-1/2 teaspoons rose flower water
Salt (optional)

Directions:
1. Arrange berries and nectarines on a platter; sprinkle flowers over fruit.

2. In a small bowl, mix vinegar with rose flower water to taste. Spoon evenly over salad. Season to taste with saltSource:
Sunset Recipe Annual 2000 Edition

Dandelion Potato Gratin
(serves 4 - 6)

1 lb potatoes
1 lb dandelion greens
1 tbsp light olive oil
2 tbsp unsalted butter
2 garlic cloves, finely chopped
1/2 tsp salt


1 garlic clove, peeled
1 1/2 cups heavy cream
1 1/2 cups half and half
1/2 tsp salt

Peel and slice potatoes thinly into rounds. Immediately put into cold water. (prevents browning) Wash dandelion greens and remove stems. Stack greens and cut across into small ribbons. Blanch the greens in salted boiling water for 30 seconds if young leaves, and several minutes if they are older. Until they have lost some of their bitterness. Drain greens and put under cold running water. Squeeze out the excess liquid, and saute over medium heat in oil, 1 tbsp butter, all the garlic, and salt for 5 minutes. Preheat oven to *375 and rub baking dish with raw garlic clove. Let dry and grease dish with remaining butter. Heat the cream in saucepan with remaining 1/2 tsp salt, do not let boil. Place layer of potatoes in dish, then a layer of greens, then potatoes, etc. Pour cream into baking dish over layers. It should just cover the top layer of potatoes. Place dish into oven and bake uncovered for an hour, or until cream has been absorbed and the surface is bubbly and golden.


Eileen's Spring Flower Salad©
Author
Eileen O'dea

To serve 4,you will need:

4 cups salad greens, your choice

1 small red onion, sliced thin

1 small cucumber, sliced ½ inch thick

6 to 8 white mushrooms

2 large sweet peppers, sliced in julienne style

½ pint grape tomatoes

cup Chive blossoms,

individual flowers separated

cup Sweet Rocket blossoms

cup Meadow Crainsbill blossoms

5 large Pansies

1/8 cup Sweet Violets

On two separate platters place, salad greens and other ingredients arranged attractively. Serve immediately as flowers will wilt if left too long. Provide several light salad dressings.

Marigold Muffins

3/4 cup milk
1 1/2 Tbsp crushed dried marigold petals
2 cups sifted flower
1 Tbsp baking powder
1/2 tsp salt
3 Tbsp vegetable oil
4 Tbsp honey
1 egg

Heat milk to boiling point, add crushed petals. In seperate bowl, sift the flour, baking powder, and salt. Add honey and egg, combine with dry ingredients. Fill muffin cups 2/3 full and bake at *400 for 20 minutes.

Ricotta-stuffed zucchini flowers

Yield: 10 Servings

1 lb Ricotta cheese

1 Onion; minced
1/2 c Toasted almonds or pine nuts -(finely chopped)

1/2 c Grated Italian Asiago cheese -OR- Parmesan cheese
1/2 ts Ground pepper

1 ts Seasoning salt
2 tb Minced fresh basil;

1 ts -Dried basil -or- 2 tb Minced parsley
1 ts Butter; melted
20 md Zucchini flowers or any squash flowers -Freshly picked and -rinsed in cold water

Nasturtiums for garnish

Mix together all ingredients except butter and flowers. With filling at room temperature use a pastry tube to carefully stuff flowers; do not overfill. Drizzle melted butter over flowers and cook in microwave on medium power for 3 minutes or at 350 F in regular oven for about 15 minutes. Be careful not to let filling ooze out of flowers. Garnish with nasturtiums stuffed with extra filling

1 1/2 cups sugar

5 cups water

12 stems fresh lavender

2 1/4 cups lemon juice

BOIL 2 1/2 cups of water with the sugar. ADD the lavender stems and remove from heat. PLACE on the lid and let cool. When cool, add 2 1/2 cups water and the lemon juice. STRAIN out the lavender. SERVE the lavender lemonade with crushed ice and GARNISH with lavender blossoms. Serves 8 - From Claudia
Strawberry Mousse in Tulip Cups
To create a stunning dessert, fill edible tulip cups with this luscious berry mousse.
Serves: 8
3/4 cup sugar
1/4 cup boiling water
1/4 cup cold water
1 envelope unflavored gelatin
6 cups (three 1-pint baskets) fresh strawberries
1 tablespoon lemon juice
1/3 cup orange juice
8 large pesticide-free red or other color tulips, rinsed and drained
2 tablespoons meringue powder
1 1/2 teaspoons vanilla extract
1/2 cup heavy cream
1. In medium-size heatproof bowl, combine 1/4 cup sugar and the boiling water until sugar dissolves; set sugar syrup aside to cool.
2. In cup, combine cold water and gelatin; set aside 5 minutes to soften gelatin. Meanwhile, hull and finely dice enough strawberries to measure 4 cups. Refrigerate remaining strawberries. In 2-quart saucepan, heat diced strawberries and remaining 1/2 cup sugar to boiling over medium heat, stirring occasionally. Reduce heat to low and simmer berries until very soft -- about 5 minutes. Remove from heat; stir in lemon juice.
3. Prepare orange-berry sauce: In food processor fitted with chopping blade or blender, process or blend cooked berries until smooth puree forms. Pour 1 1/3 cups strawberry puree into 2-cup measuring cup and stir in orange juice; cover and refrigerate until cold.
4. Pour remaining strawberry puree into same 2-quart saucepan and stir in softened gelatin; heat over low heat just until gelatin dissolves. Refrigerate strawberry gelatin, stirring often, until mixture mounds slightly when dropped from spoon -- about 30 minutes.
5. Meanwhile, prepare tulip cups: Cut off stems and remove the pistils and stamens from the tulips. Place each tulip cup in a custard cup or muffin-pan cup to keep them upright; set aside.
6. Add meringue powder to syrup in bowl. With electric mixer on high speed, beat until soft peaks form. Add vanilla and beat until stiff peaks form. Fold cooled strawberry gelatin mixture into meringue until well mixed. In small bowl, with electric mixer on high speed and same (no need to wash) beaters, beat cream until stiff peaks form. Fold whipped cream into strawberry gelatin mixture. Gently spoon strawberry mixture, or mousse, into tulip cups, dividing evenly. Refrigerate until set -- 2 hours or overnight.
7. Just before serving, sort remaining strawberries and reserve 16 small ones for garnish. Hull and slice remaining berries; divide equally and place in center of each of 8 serving plates. With large spoon, transfer tulip cups onto bed of sliced berries, moving slices around tulip to support cup upright. Pour a thin layer of orange-berry sauce around tulip cup on each plate. Garnish each with 2 berries. Pass remaining sauce. Serve immediately.
Lavender Rose Petal Cheesecake
1 cup Late Harvest Chardonnay or other sweet white wine
2 Tblsp. dried lavender
1 1/2 lbs. cream cheese, softened
1/2 cup + 2 Tblsp. sugar
4 large eggs
1 cup sour cream
Crystallized Rose Petals (recipe to follow)
silver pearls (edible kind, of course)
In a small saucepan, combine the wine and lavender. Bring to a boil and reduce to the consistency of marmalade. Strain and reserve the liquid. Chop the lavender finely if you wish to add it, otherwise it can be discarded. In a mixer, combine the cream cheese and 1/2 cup of the sugar at low speed. Add the lavender liquid (and the lavender if you choose). Mix until smooth. Pour into a buttered 9" springform pan and bake at 325° for 45 minutes. Remove from the oven and let sit at room temperature for 30 minutes. Combine the sour cream and 2 Tblsp. sugar, or more to taste, and spread over the cheesecake. Bake at 400° for 4 minutes. Chill at least 3 hours. Garnish with crystallized rose petals and silver pearls.
Crystallized Rose Petals
1 egg white
Rose Petals
sugar
Beat the egg white until frothy and brush it lightly onto each rose petal. Sprinkle with sugar and let dry.
Blueberry/Lavendar Crisp:
Filling:
3 C Blueberries
1 C Cranberries
1/2 t Lavendar Flowers
3/4 C Sugar

Topping:
1 1/2 C Crushed Oatmeal Graham Crackers
1/2 C Brown Sugar
1/2 C Melted Butter
1/2 C Sliced Almonds

Combine filling ingredients and put in an 8X8 pan. Combine topping ingredients and sprinkle over top. Bake at 350 deg. F for 20-25 minutes until berries are bubbly.


Jamaican Hibiscus Drink

Serves: 2

8 cups Water
2 cups Dried hibiscus blossoms Find in Jamaican or Mexican markets sometimes called sorrel blossoms
1 teaspoon Fresh ginger -- grated
1 cup Sugar -- or to taste
Jamaican rum (optional)

In a 4 quart stainless steel or glass pot, bring the water to a boil. Add the hibiscus and ginger. Turn off the heat, then cover and steep for 4 hours. Strain and sweeten with sugar to taste. Chill and serve, or serve with good rum, the amount according to your taste. Makes 2 Quarts.